Warren G
Warren Griffin III alias Warren G est un rappeur américain de descendants haïtiens né le 10 novembre 1971 à Long Beach.
Warren G grandit à Long Beach City, Los Angeles, California, un des grands ghettos de L.A. avec Compton, South Central et Inglewood. Il vit une jeunesse paisible, il deale un peu mais se range très vite et trouve un travail honnête.
Il constitue le groupe 213 avec ses deux amis d'enfance Calvin Broadus a.k.a. Snoop Doggy Dogg et Nate Dogg. Tous les trois réalisent quelques titres avec Warren au beat et Nate au chant. Il fait écouter une mixtape du groupe à son demi-frère Dr. Dre (ils ont la même mère), qui est impressionné par le flow incomparable de Snoop et la voix de Nate et fait immédiatement signer Snoop Dogg et Nate Dogg sur le label de Suge Knight Death Row Records.
Warren G lui, choisit le label Defjam de New York. Ainsi le 213 se sépare et ne sortira son premier album "The Hard Way" qu'en 2004.
Warren G
est indéniablement un des pionniers du G-Funk,
style de rap de L.A. en réfèrence au P-Funk des années 70 de George Clinton et son parlement funkadelic. Le premier album de Warren G Regulate... G-Funk Era sort en 1994. Il comporte le tube Regulate(B.O. d'Above the Rim avec 2 pac) qui révélera Warren et Nate au monde entier, "This D.J." et "So Many Ways"(B.O. de Bad Boys). Regulate devient vite disque d'or.
En parallèle, Warren G produit des artistes de L.A. et notamment un duo de Long Beach, The Twinz pour leur album "Conversation" qui est un classique pour les amoureux de G-Funk[/url], the Dove Shack et Foesum.
En 1997 sort le second album de Warren G Take a Look Over Your Shoulder avec les tubes « Smokin' Me Out » en duo avec Ron Isley, « What's Love Got To Do With » avec Adina Howard, reprise du hit de Tina Turner et « I Shot The Sheriff », reprise de Bob Marley.
En 1999 sort le troisième album du rappeur I Want It All avec de nombreux featuring et des instrus mélant le jazz et le hip hop.
The Return Of The Regulator sort en 2001 avec le single « Lookin' at You » produit par Dr. Dre. et un duo avec le roi George Clinton.
Début 2006 sort le cinquième opus de l'artiste producteur à succès 'In the Mid-Nite Hour très bien produit avec des titres qui renouent avec le style G-Funk de ses débuts.
Discographie
-Regulate... G-Funk Era (1994)
-Take a Look Over Your Shoulder (1997)
-Warren G & Sissel-Prince Igor - The Rapsody (1997)
-I Want It All (1999)
-Return of the Regulator (2001)
-213 - The Hard Way (2004)
-In The Mid-Nite Hour (2005)
1994 - Warren G - Regulate... G Funk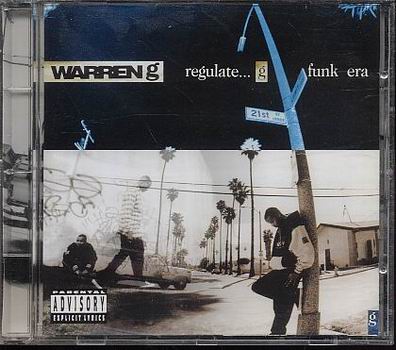 01-Regulate
02-Do You See
03-Gangsta Sermon
04-Recognize Ft The Twinz
05-Super Soul Sis
06-'94 Ho Draft
07-So Many Ways
08-This DJ
09-This Is The Shack Ft The Dove Shack
10-What's Next
11-And Ya Don't Stop
12-Runnin' Wit No Breaks
1997 - Warren G - Take A Look Over Your Shoulder (European Edition)
1-Intro
2-Annie Mae
3-Smokin' Me Out
4-Reverend Eazy Dick
5-Reality
6-Interlude
7-Young Fun
8-What We Go Through
9-We Brings Heat
10-Can You Feel It
11-Transformers
12-Reel Tight (Intro)
13-Relax Ya Mind
14-To All D.J.'s
15-Back Up
16-What's Love Got To Do With It
17-I Shot The Sheriff
18-What's Love Got To Do With It (Remix)
1999 - Warren G - I Want It All
01-Intro
02-Gangsta Love Ft Kurupt, Nate Dogg & RBX
03-Why Oh Why Ft Daz Dillinger & Kurupt
04-Dollars Make Sense
05-I Want It All Ft Mack 10
06-Havin' Things Ft Jermaine Dupri & Nate Dogg
07-You Never Know Ft Snoop Dogg, Phats Bossi & Reel Tight
08-My Momma (Ola Mae)
09-G Spot
10-We Got That Ft EVE, Dragon & Shadow
11-Dope Beat
12-World Wide Ryders
13-Game Don't Wait Ft Nate Dogg & Snoop Dogg
14-If We Give You A Chance Ft Slick Rick & Phats Bossi
15-Want It All (Remix) Ft Memphis Bleek, Drag-On & Tikki Diamond
16-Outro
2001 - Warren G - The Return Of The Regulator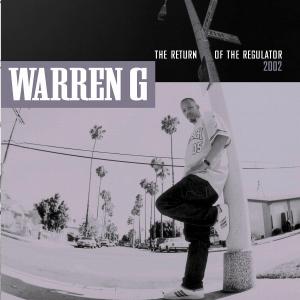 01-Intro
02-Lookin' At You
03-Here Comes Another Hit
04-Somethin' To Bounce To
05-This Gangsta Shit Is Too Much
06-Pump Up
07-Young Locs Slow Down
08-Speed Dreamin'
09-Yo' Sassy Ways
10-Deez Nuts Pt. II
11-It Ain't Nothin Wrong With U
12-Ghetto Village
13-They Lovin' Me Now
14-Streets Of LBC
15-G-Funk Is Here To Stay
16-Keepin' It Strong
2005 - Warren G - In The Mid-Night Hour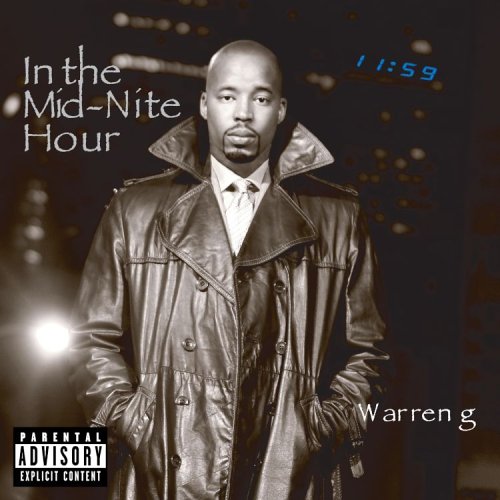 01-Intro (Shhhhh)
02-We Need Each Other Ft Chevy & Bishop Lamont
03-Makt Do What it Do Ft Bishop Lamont
04-In Case Some Shit Go Down Ft Mike Jones
05-I Need A Light Ft Nate Dogg
06-Get U Down Ft B. Real & Side Effect
07-A Chronic Break
08-Weed Song Ft Frank Lee White
09-Wheels Keep Spinning
10-PYT Ft Snoop & Nate Dogg
11-Walk These Streets Ft Raphael Saadiq
12-Garilla Pimpin' Ft Bishop Lamont
13-Turn It Up Loud Ft Chuck Taylor
14-Mid-Night Hour Ft Nate Dogg
15-I Like Dat There Ft Bishop Lamont
16-Yessir
17-Ahh Ft Bishop Lamont, Frank Lee White & Chuck Taylor
18-All I Ask Of You Ft Frank Lee White, Bishop Lamont
Elle Tue pas ma bio ???